Are you looking for a product that can substantially improve the health of your pet? Then consider adding Colloidal SilverSol to your pet's medicine cabinet. 
Known for its phenomenal curative properties, Colloidal SilverSol – from Adored Beast, is a solution with silver suspended in deionized water. It is beneficial for healing cuts and scrapes, for use as a broad-spectrum antiviral and as a powerful anti-inflammatory. 
This negatively charged solution attacks bad bacteria and, unlike its ionized predecessor, Collodial SilverSol leaves the friendly bacteria alone. This is key to remember, as other colloidal products would harm a pet's healthy bacteria.
What separates Colloidal SilverSol from other formulations is that the solution is comprised of 99.9% pure silver suspended in deionized water. The product contains the highest quality silver available and unlike others, contains no additives. It is excreted through a pet's urine and prevents the storage of silver in the body. Other products on the market use ionic or hydrosol silver, silver protein or silver salt. 
Two separate technologies make Colloidal SilverSol different from others. Molecular Resonance Effect Technology (MRET) takes the water molecule, normally triangular, and makes it flat and linear. Why does this matter? The change in shape allows that molecule to pass right into the cell membrane, making it far more effective.
Colloidal SilverSol technology also makes it a SOL. A SOL is missing an electron, but it wants that missing electron, and the easiest place to find it is a pathogen. This silver is attracted to specific pathogenic frequencies, rather than the healthy bacteria.
When ingested, Colloidal SilverSol can kill pathogens in the body, including bacteria, viruses, and fungi. Its anti-microbial, anti-bacterial properties are useful for treating yeast overgrowth and urinary tract infections. 
It works well as an immune booster – giving your pet a better defence against threats such as viruses and bacteria. Since it also assists with the flushing out of toxins and heavy metals, owners are encouraged to ensure their pets drink a lot of water when on Colloidal SilverSol.
Why should you use Colloidal SilverSol?
Supports the healing of the skin, eye, and ear infections

Supports the healing of cuts, scrapes and burns

Natural disinfectant

Broad-spectrum antimicrobial

Potent anti-inflammatory

Doesn't encourage antibiotic resistance

Has potential in disease prevention

Immune system enhancer

Works synergistically with prescribed antibiotics
For best results, the daily recommended dosage is 10 ppm (parts per million) to meet the needs of new and different variants in viruses and bacteria. Store Colloidal SilverSol in a cool, dry place. The product does not expire, but it's considered wise not to dispose of the product if it's beyond four years old.
Because of the technology Adored Beast uses, the structure of their colloidal silver becomes linear, which means it can more easily enter a cell. As a result, their tests show that it is effective at only 5 ppm. They made SilverSol 10 ppm to account for new variants of viruses and bacteria.
Pearly Whites for Pets strongly advises using Colloidal SilverSol to reduce inflammation in dog and cat gums, easing the soreness when irritated. PWfP technicians apply it after cleaning and polishing pets' teeth. They spray it on teeth and gums as part of their service as Colloidal SilverSol also known to reduce plaque and tartar buildup.
Try Colloidal SilverSol today and improve the health of your four-legged friend!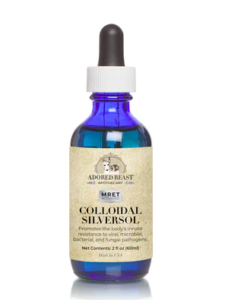 Available at our Barrie, Studio on King (Toronto) locations and online.