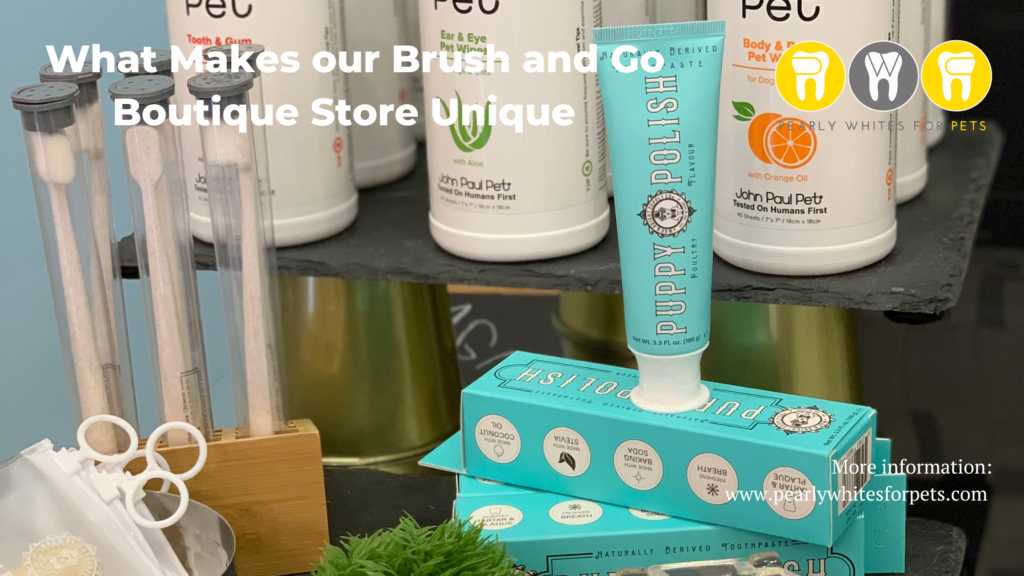 Our companion animals intensely enrich our lives. For all that they give to us, we want to give them nothing but the best in return. That includes pulling out all the stops when it comes to their health and well-being. We want to take the time to source only the absolute best products for them, with natural and safe ingredients, from trusted sources, with proven results and at a price that works for our budget.
Our team at Pearly Whites for Pets have done this research for you! We take the time to source truly unique products that benefit your beloved pet, that respect the precious environment we share and that sincerely appreciate the sentiment in which we all believe: Pets are family and they deserve the absolute best.
Brush and Go – A Unique Boutique
When Pearly Whites for Pets first started, we were already on a unique path, offering services to clean pets' teeth without sedation. But we soon realized that we could do more for the health and well-being of these beloved animals through offering a variety of unique products that could help to support the teeth cleaning services that Pearly Whites for Pets provides, in partnership with regular veterinary care, with an on-line store called the Brush and Go Boutique. The concept for the store was inspired by the many years of experience and knowledge gained from listening to and collaborating with pet owners.
Our team at Pearly Whites for Pets have a philosophy that promoting oral hygiene for your pet involves more than simply brushing teeth. Our goal is to provide you with a selection of products that are not only the highest quality, clean and effective, but that give you comfort in knowing you can actively participate and care for your pets' oral hygiene easily and comfortably. While brushing your pet's teeth is the most obvious way to care for their teeth from home, we can appreciate that this is a challenge for many pet owners, for a variety of reasons. Therefore, we are committed to offering you a safe and effective alternative to aid in the need for a different approach while keeping the health and well-being of pets our highest priority. We strongly feel that combination care is key to creating and maintaining a healthy oral microbiome. Our team has spent many years sourcing the most effective products that will support this philosophy and we feel privileged to be able to share them with you, so that you can provide your companion animals with a healthy mouth.
Brush and Go Products Stand Out from the Rest
Over the past decade, our team has been on a mission to find the best of what's available for your companion animals, bringing them to our website boutique,
Brush and Go
, so that we can offer them to you. We have everything to support a healthy mouth, from toothbrushes and toothpaste, to water additives, supplements (because good oral health starts with a
healthy gut
!), dental sprays and gels, dental wipes, dental treats and toys. Each and every one of these products were researched thoroughly and offer something unique for your cats and dogs.
For example, Wag and Bright, makers of the puppy polish toothpaste and the world's softest pet toothbrush that we sell, use biodegradable materials in both their products and packaging.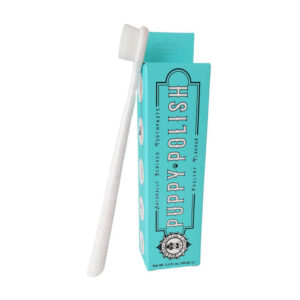 Their eco-friendly toothbrush boasts 10,000+ silky soft bristles to gently clean the most sensitive of gums and their toothpaste, evaluated in independent labs, is made from all-natural ingredients, safe for dogs of any age!
Teef, makers of the water additive we promote and sell, is the only clinically proven prebiotic water supplement that improves the oral microbiome for better dental health.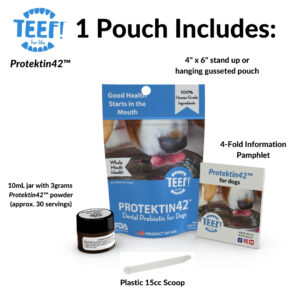 Teef was created by a microbiologist who understands that killing all the bacteria in your pet's mouth is not the healthiest way to promote oral hygiene. When the Pearly Whites for Pets team heard about this product and its numerous health benefits, we knew we had to offer it to our clients. Teef is a woman-owned company that combines the fundamentals of microbiology and molecular nutrition to provide a product that will benefit the overall health and well-being of your pet. Our team has taken the time to research this so that you don't have to. Instead, you can trust the time and commitment we have put into finding the best products for the animals we all love so that you can welcome these products into your home and add them to your pet's oral hygiene regime.
Brush and Go Boutique Ventures Above and Beyond
Perhaps the most difficult mission to obtain a product that our team ever undertook was for an extraordinary oral spray that we learned about from New Zealand.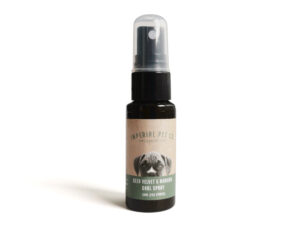 When the benefits of deer velvet for oral hygiene were explained to our team at Pearly Whites for Pets, we were determined to find and import this distinctive product for our clients. It was cause for celebration when the Brush and Go Boutique was finally able to offer Imperial Pet Company's Deer Velvet and Manuka Oral Spray in Canada! Manufactured exclusively in New Zealand by a family-owned company, this product has been meticulously created using all natural ingredients, obtained through ethical processes, and with the most modern scientific support. This unique oral spray is available only through Pearly Whites for Pets in Canada and is a product that we wholeheartedly support for our clients and customers.
Whether you are a seasoned pro at brushing your pet's teeth or if you are still trying to figure out what is the best way to keep your pet's mouth healthy, we can help you to find a combination of care that will work for your cherished cat or dog. The products we trust are proven effective by science, conscientious of the environment, supported by careful research and offered through our Brush and Go Boutique. Please visit our website and see how we can help you to keep your pet's mouth feeling happy and looking healthy!
Please read our previous Blog article, entitled Maintain your Pet's Pearly Whites from Home, to learn more about our unique product lines and why these products are important for the maintenance of healthy teeth and gums.