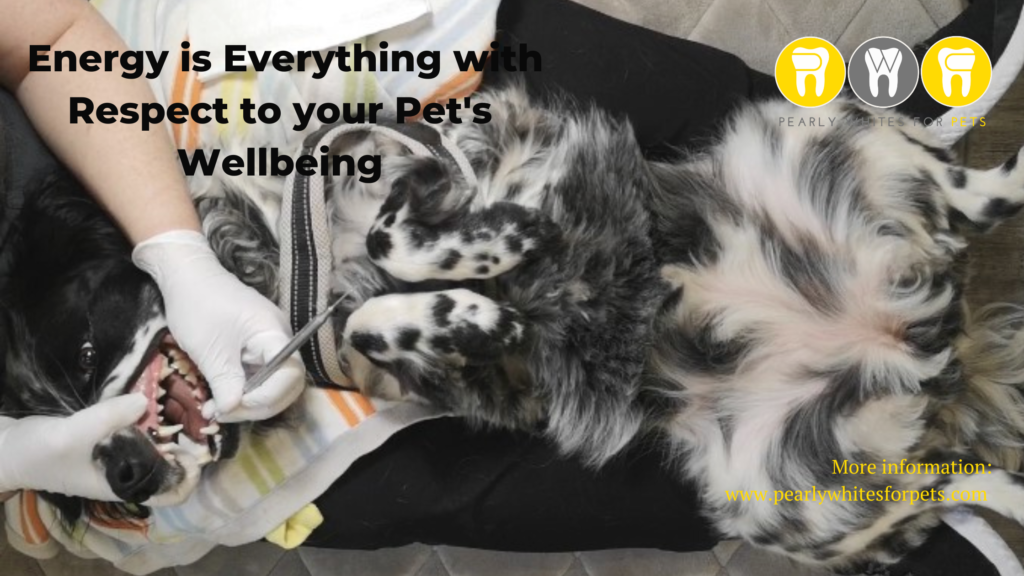 One of the most frequently asked questions we receive at Pearly Whites for Pets is "How do you get the dogs to relax in your lap, in order to clean their teeth?" The answer lies in energy, both from the dog and from our practitioner who is cleaning their teeth. So many facets of interactions with dogs rely on energy levels, whether it's their daily walk, a training routine or even at mealtimes. All of these things are directly connected to energy and our work at Pearly Whites for Pets is no different.
Dogs are More Likely to Surrender Under Calm Energy
Dog expert Cesar Milan often talks about what he refers to as the "calm surrender", how dogs will surrender under the right kind of energy. In order for your dog to respect you and do what you ask of them, your energy needs to be calm, assertive and confident. The second of Milan's Five Natural Dog Laws is "Energy Is Everything." Milan once said "The dog is a reflection of your energy, of your behaviour. You have to ask, 'What am I doing?' …The dog can only become what's in your bubble. The dog is imitating the energy that is in your bubble. You are the source, the feast of energy. If you feel anxious, the dog becomes anxious with you. If you become nervous, the dog wakes up nervous with you". 
Energy is Reciprocal 
At Pearly Whites for Pets, we know from over a decade of experience that it takes an incredibly special kind of person to be able to collaborate with dogs. Having years of experience owning and/or handling dogs is particularly important but it's not everything. Your personality and your energy matter most. You have likely heard the expression "dog whisperer" – these are people who have a natural way with dogs, and it is attributed to the energy they give off towards dogs, who then naturally reciprocate what they interpret from their handler. The way in which you handle a dog is directly related to your own energy, believing in your own confidence and ability. If you can manage your energy, you can handle the dog and then all else will fall into place.
Energy Matters when Cleaning your Pet's Teeth
Our practitioners with Pearly Whites for Pets are not only highly trained to be the absolute best at what we do, but we are good at what we do because of our confident and calm energy with the pets entrusted into our care. The photos on our website don't lie! The cats and dogs we work with are in a calm, relaxed state on our laps before we begin our teeth cleaning procedure. We don't just use dim lights, aromatherapy and soft music to set the mood. Although we do have two deaf dogs whom we see regularly who do require music to off-set the sound of scaling their teeth! Our energy sets the mood and the tone for each appointment. The energy of our team is then reflected back to us from the cats and dogs with whom we work. It's just as important to have the right energy from the animals themselves, the calm, surrendering energy that enables us to do what we are here to do. 
Keys to the Right Kind of Energy
We take the time to get to know your cats and dogs, because they are all individuals, in order to make them completely comfortable. We do this through a kind but assertive touch, with confidence that comes through thorough training and many years of experience, through confidence in our own leadership, and especially because we love these animals like our own! It is important to us to be able to put your beloved companions into a state of calm surrender, so that we can provide them with the exceptional teeth cleaning services that we offer, giving your pet a healthier mouth and that pearly white smile! 
Leadership is key. In every situation, there is always a leader. If you don't take the lead with your pet, they will lead you. The same is true when you're out walking your dog. If you're not a confident, calm and assertive leader, your dog will walk you – not the other way around! 
Leading your dog through their appointment in a positive way is a responsibility we take very seriously. We know that being able to effectively clean teeth is 80% to do with dog handling and 20% to do with the actual scaling of the teeth. It takes a special kind of crazy to be able to do what we do! But as is the case in all areas of our business, the team at Pearly Whites for Pets is carefully chosen for our unique combination of personality, skills and experience in order to provide you, our respected clients, with nothing but the most exceptional client care. 
Our team truly has a way with cats and dogs! We look forward to showing you what we can do!