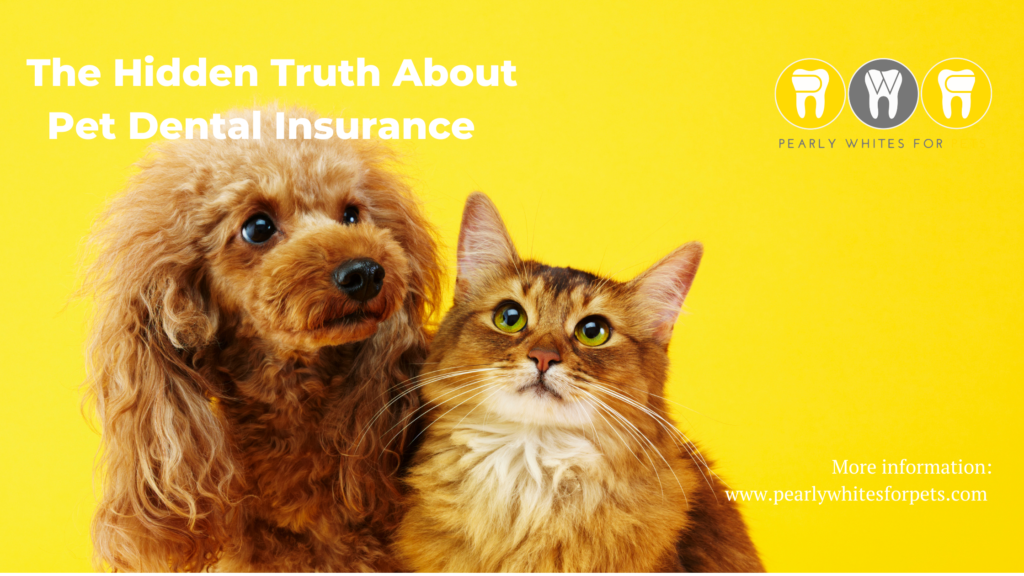 If you have a pet, you likely have pet insurance. There is a wide variety of insurance companies to choose from in Canada but not all pet insurance is created equally. Some policies only cover unexpected accidents or illnesses while other companies provide comprehensive coverage for routine care. Some companies even restrict the ages from which and to which your pet can be covered. But did you know that most policies do not include comprehensive dental coverage for your cats and dogs? 
Pet insurance is important. Just like humans, pets have the potential to require medical assistance at any point in their lives, for a multitude of health issues. In our experience at Pearly Whites for Pets, cats are less likely to require dental work than dogs and smaller dogs are more likely to require dental work than larger dogs. But at some point, nearly all pets require dental work of some kind. Some dog breeds have higher potential for certain health issues over other breeds, and the same is true for dental issues, but it's the unexpected for which you cannot prepare. Pet insurance that includes comprehensive dental coverage is the best way to be prepared for your pet's unexpected dental expenses. 
Dental insurance coverage is often overlooked and that leaves you vulnerable. While the last thing anyone wants is another bill each month, the minimal cost for pet insurance is worth it in the long run. Having peace of mind, knowing that your pet's dental health is covered financially, has great value. Know what is available to you so that you can make an informed decision.
How Pet Insurance Works
Pet insurance can seem overwhelming at first. Pet insurance companies offer a variety of insurance packages with varying levels of coverage. You pay a monthly, or sometimes annual, premium for the insurance and that amount is based on the animal's age, gender, where they live, and their breed. You are required to pay a deductible, the amount you pay each year, before the insurance company pays for what you need to have covered for your pet. But, again, not all companies nor policies are created equally. You need to read thoroughly before choosing a company that's right for you. And you cannot forget to look at their dental coverage. 
Finding Comprehensive Dental Plans with Pet Insurance
Depending on where you look, different websites will rate pet insurance providers differently. Some sites make their decisions on what companies are best by public ratings, while others, like Consumers Advocate, will look deeper into what each company offers and make a more informed rating. In Canada, the most popular choice for pet insurance is Trupanion, but they may not be the best as far as comprehensive dental coverage, which Consumers Advocate suggests is Fetch. In looking at dental coverage specifically, Canadian pet insurance companies vary widely on how much dental coverage is available to you with each plan.  
To give you some insight, here are a couple of the more frequently recommended pet insurance providers in Canada. Pearly Whites for Pets in no way endorses any of these companies. For the purpose of brevity in this Blog post, we are specifically highlighting dental coverage below. This is just to give you an idea how companies differ and how deeply you need to investigate your company of choice, to ensure comprehensive dental is included. 
Canadian Pet Insurance Providers with Comprehensive Dental
Trupanion Canada
Provides coverage for pets from 8 weeks of age to 14 years

Offers a choice of annual deductibles 

For Trupanion to cover any dental costs, you must prove that you have had your pet's annual dental care from your veterinarian and that you have complied with their recommended dental care for your pet

Company boasts comprehensive dental for new, unexpected dental illness and injury, including:

Extractions of permanent and baby teeth

Coverage for retained baby teeth if your pet is enrolled by six months

Advanced dentistry, including caps and crowns

Endodontic treatments, including root canals

Fractured jaw and/or tooth repair

Tooth resorption and tooth root abscess 

Trupanion policies do not cover pre-existing conditions consistent with dental disease nor do they cover teeth cleaning and associated costs (i.e. anesthesia)

Most widely used pet insurance provider in Canada, recommended by Consumer Advocate (you can read their full dental coverage information

here

) 
Petline Canada (from HBC)
Provides coverage for pets from 6 weeks of age, coverage begins six months from date of policy purchase 

Plans start from $15.25/month for cats and $22.60/month for dogs, increases with age of your pet

Three-tiered plans offer varying dental coverage options 

Company boasts coverage for periodontal disease, tooth fractures, trauma and accidents, for any treatment for the teeth and gums for preventative care or as a result of an eligible dental illness  

Petline Insurance Company

has a number of insurance lines, including several pet insurance programs. They are the biggest pet insurance company in Canada and Consumer Advocate rates them as one of the best. Their pet insurance for Hudson's Bay customers has the most comprehensive dental coverage of all Petline Insurance companies. You can read more

here

. 
Fetch Canada
Provides coverage for pets from 6 weeks of age up to any age, no exceptions 

Plans average $25/month for cats and $35/month for dogs 

Company boasts the most comprehensive dental plan in the industry, states comprehensive dental plans cover every adult tooth for injury and disease, not just the canines, and includes:

Full coverage for gum disease

Oral tumors

Trauma coverage on all teeth

Fetch policies do not cover teeth cleaning, routine and preventative care unless your veterinarian recommends it as treatment for a covered condition

Most recommended pet insurance provider by Consumer Advocate and by The Dodo (you can read more about their dental coverage

here

)
Again, PWFP does not endorse any of these insurance providers, however, if the most widely used insurance company in Canada does not offer the most comprehensive dental coverage of all available providers, which goes to show that dental coverage is, more often than not, overlooked or undervalued by the average pet owner. 
Start Your Pet's Dental Coverage Early
It is so important to start taking care of your dog's teeth from an early age. Many pet insurance plans note that certain services are only covered if your pet is covered from 6 months of age. Dental issues must be detected early so that they don't cause more serious health issues later in life. Pearly Whites for Pets offers a Puppy Visit for this very reason. While we are not veterinarians (we cannot diagnose nor treat dental issues), we can collaborate with your veterinarian and help to recognize issues in your pet's mouth early on, to help set your cat or dog up for success. There are several issues, such as misalignment or unerupted teeth, retained baby teeth to name a few, which can be corrected by veterinary dentistry. But they must be detected early. Insurance can help keep your mind at ease, as far as the financial burden that can transpire, but it must be truly comprehensive dental coverage. It is important to note that the vast majority of insurance companies do not offer comprehensive dental coverage. They do not even include cleanings nor extractions. You really need to do your research! 
How Pearly Whites for Pets can Help 
If your puppy is no older than 16 months of age, consider booking a Puppy Visit with us. This specialized session includes a full cleaning, a thorough evaluation of your pet's mouth, and a friendly conversation about the future of your pet's teeth. Because we are considered cosmetic, a cleaning from PWFP is not covered by insurance providers. But we can help you to understand what issues may arise in your pet's mouth, preparing you to ask the right questions when you shop for your pet's insurance plan. We can help you financially prepare for your pet's future. Together, we can create a pathway of combination care to support your pet's longevity and health. Let's give your pet their best life!