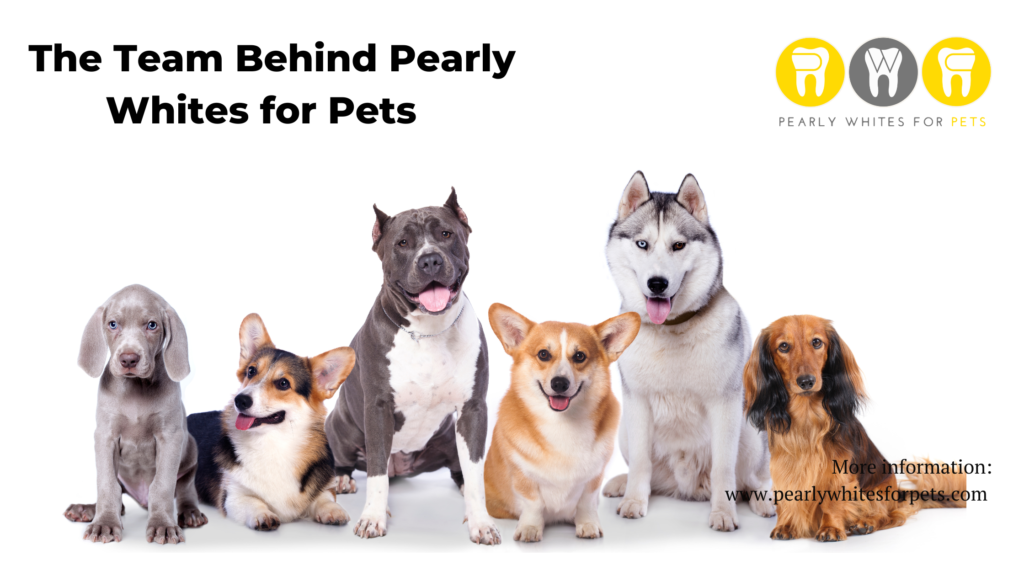 As a dog groomer for many years, Renata's greatest reward for a job well done was the smile she received after making beloved family pets look their best! The smiles on her clients' faces, their heartfelt thanks, and the affection she enjoyed from the dogs she groomed made all her challenging work worthwhile.
But after all those years in the pet grooming business, entrepreneurial-minded Renata had experienced countless conversations with these pet's owners who often expressed their concerns for their companion animals. A topic that came up repeatedly was oral hygiene.
After receiving so many smiles throughout her career, Renata understood the importance
of keeping those pearly whites in check.
Naturally Clean Teeth for Pets
Until about ten years ago, the only way pet owners could clean their cats' and dogs' teeth was by putting them under anesthesia at their veterinarian's office. While this is an effective way to provide optimum care for your pets, subjecting them to drugs and sedation is not ideal on a regular basis and this can create barriers for many pet owners.
Renata recognized the need for an alternative, natural way to support the overall health of pets through improved oral hygiene. Caring for pets' teeth and gums to promote longevity is at the forefront of many pet owner's minds. Thanks to a friend, the concept of anesthesia-free teeth cleaning was introduced to Renata and together they helped to pioneer its interpretation and bring it into reality for Ontarians.
Pearly Whites for Pets was Born
In November 2012, Pearly Whites for Pets was born. With a unique approach to care for the mouths of our beloved family companions, Pearly Whites for Pets created a safe, natural and proactive way to compliment the care your pet needs from their veterinarian through a cosmetic style teeth cleaning business.
Pearly Whites for Pets first opened in Barrie, one of two flagship locations, with the company's main studio on King Street West in Toronto. From these two locations, a top-quality team provides exceptional work, outstanding client care, a welcoming atmosphere and a contemporary environment with a luxury feel.
Making Clean Teeth Personal
For each appointment, the Pearly Whites for Pets team take the time to get to know your pet before they begin a cleaning appointment. Building a reciprocal relationship of trust before beginning a cleaning is particularly important at Pearly Whites for Pets. The team of practitioners create a safe, calm and relaxing environment for all the cats and dogs in their care. The team offers the absolute best of themselves from their two main locations. But in order to be able to help brighten more smiles, Pearly Whites for Pets also operates out of several other hosted clinics throughout southern Ontario and the greater Toronto area on a regular basis, for those clients who cannot make it out to Barrie or the west side of Toronto with ease. Appointments at any of these locations can be made easily through her company website or Facebook page.
It is important to the team at Pearly Whites for Pets to offer services to all cats and dogs, regardless of age, size, breed and temperament, while upholding the very highest standards of care. This non-discriminatory attitude has satisfied hundreds of clients, many of whom have left five-star reviews on the company's business pages. Pearly Whites for Pets' social media pages, followed by thousands of clients and fans of their work, is guaranteed to make you smile, featuring hundreds of smiling pets with flashy, pearly whites!
Pearly Whites for Pets is more than just Teeth Cleaning
Recently, Pearly Whites for Pets has expanded the business to include unique products that will help pet owners to keep their cats' and dogs' teeth clean from home. Pearly Whites for Pets now includes Brush and Go which is both an on-line store and a boutique-style shop at the front of the King Street West location. Brush and Go offers a unique variety of toothbrushes and toothpastes, as well as gels and polishes, which are a welcome addition to any home where toothbrushing is part of the family's daily routine. If brushing your pet's teeth is more of a challenge, Brush and Go has several wonderful alternatives to brushing, such as water additives, natural supplements, dental treats and toys to help promote oral hygiene for your pet. This unique store literally carries something for everyone!
Renata wants her clients to understand that Pearly Whites for Pets offers cosmetic teeth cleaning that is not designed to replace but to collaborate with your pet's veterinary dental cleanings and home maintenance schedule. So many pet owners do not want to have their animals sedated once a year to clean their teeth, and they do not have to!
The main goal of the team at Pearly Whites for Pets is to provide clients with an informed, holistic point of view so that you can make knowledgeable decisions based on the unique needs of your own pet. Integrity is paramount and is at the foundation of all that Pearly Whites for Pets stands for. And while this is a team of experts in client care, the team respects the fact that no one knows your animal better than you. Everyone at Pearly Whites for Pets wants clients to walk away with peace of mind, knowing their pets are an absolute priority here too.